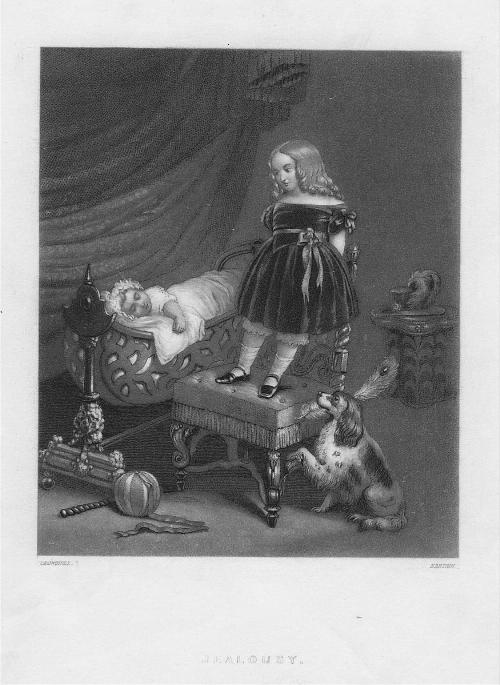 John Sartain was the most prolific (and the best) of but a handful of 19th century American mezzo-tintists. Although his mezzotint (above) is smaller (7 7/8" X 5 3/8") than the Gimbrede line & stipple (8 3/4 X 5), the superior quality of the mezzotint is readily assessible to the viewer. Both "line & stipple" and "mezzotints" are engravings, and belong to the "intaglio" catagory of prints. (See "Art Terms")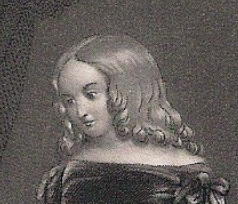 Smooth surface and contrast are qualities inherent in the more complicated technique of most mezzotints (again, assuming the artist is skilled enough to utilize the advantages). Note the uniform smoothness of both the face & hair, and the singular "pitted" lines that serve to outline the figures image, a characteristic that makes most mezzotints easily identifible. The reason many artists were attracted to mezzotint technique is that a basic principle in academic art, "chiaroscuro" (light from dark), was more readily attainable.
Again we can see the skill of the artist at work on the dog's profile (above) ; it's not just the mezzotint tech-nique at play here , but clearly Sartain's talent in executing the subject at hand.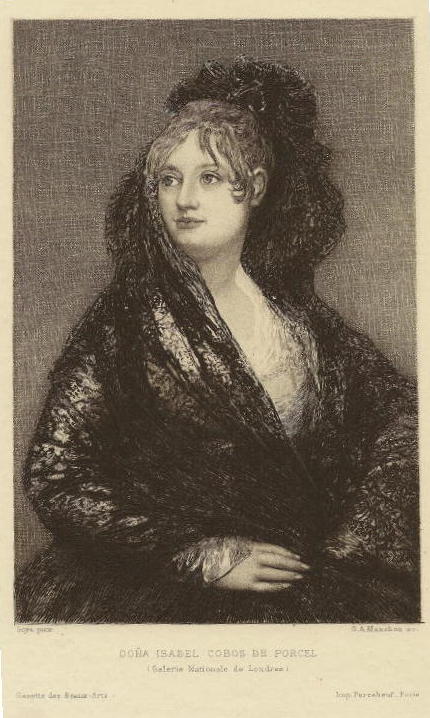 Around the turn of the 19th century, the well known French art periodical "Gazette des Beaux-Arts" began to print duplicate halftone and etchings of the same image to lend instruction to the public about the differences inherent in both intaglio (engraved or etched images) and the new, halftone process, a much cheaper form of photograhic reproduction. The above etching after Goya was printed simultaneously along with the halftone to the left in 1897. Although this French periodical would continue to print high quality etchings up until the 1920s, halftones became the dominate form of reproduction, beginning in the 1890s.
Although the above etching is not the best example of the art, the depth, contrast and clarity remain superior to what was already becoming the ubiquitous halftone. The halftone and photograph put hundreds of talented engravers out of work, and slowly eroded the public's perception of quality "reproductive" art. Eventually, the engraver's/etcher's art would become only a memory, and later, to most of the reading public, virtually forgotten.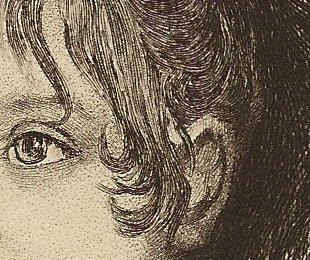 Now the etched lines are clearly visable...
...Actually, despite the ignorance and loss of a quality image on the public consciousness engendered by "half-tone" photo-reproductive shortcuts, some dealers are privately reconciled, if not pleased with such a develop-ment. The change (eventually) made the engravers' lost art scarce and sought after as a highly collectible relic of the past. Today we see the "worm has turned" once again with the advent of digital matrix...

Click links to navigate pages :